by | January 11th, 2013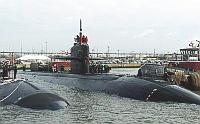 At around 5:00 AM local time, the officer on watch of the nuclear submarine, USS Jacksonville, cruising in the Persian Gulf heard a noise and felt the submarine shudder. When he went to look out the periscope to see what had happened, he noticed that the periscope was missing, apparently sheared off by a collision with a surface vessel.  When the Los Angeles-class attack submarine surfaced to see if the other vessel was damaged, the crew observed a fishing trawler proceeding away from them. The fishing vessel did not appear to be damaged and gave no indication that anyone aboard was even aware of the event.   The USS Jacksonville has two periscopes, of which the second was undamaged.  The submarine is reported to have been diverted to Bahrain to complete a damage assessment.  Thanks to Phil Leon for passing along the news.
The Navy has had problems with collisions in the crowded water ways of the Persian Gulf and the Straits of Hormuz.  Last August, the guided missile destroyer, USS Porter collided with the Japanese owned Very Large Crude Carrier (VLCC)  M/VOtowasan in the the Strait of Hormuz.  In March of 2009, the Los Angeles-class submarine USS Hartford also collided with the San Antonio-class amphibious transport dock USS New Orleans in the Straits of Hormuz.